Ocean City Fishing Report
Article by Larry Jock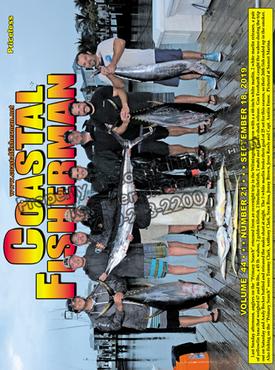 This Week Last Year

•The effects of Hurricane Florence kept everyone at the dock at the end of the week and through the weekend.

•Mid-week, dolphin and white marlin were biting in the Poor Man's Canyon.

•The best flounder bite was literally under the Rt. 50 Bridge.

•The top flounder bait was live bunker, but minnows, squid and Gulp Swimming Mullet were right behind.

•The sheepshead bite died at the South Jetty.

•Boats had to move from 60-feet of water to 100-feet of water to catch sea bass and flounder on inshore structure.

•Bluefish and mackerel were caught while trolling spoons at Fenwick Shoal.

This is the last issue of the Coastal Fisherman for the 2019 season. Looking back, it really was a very good season of fishing out of Ocean City. It didn't start out that way with another bad winter striper season and a soggy spring, but when the weather turned nice fishing turned on.

The early yellowfin bite was good again, but the late summer action slacked off. Nobody can deny that dolphin fishing was fantastic, both in numbers and the size of the fish. In fact, we saw the Maryland state record broken twice after standing for 34 years. The blue marlin bite this year was as good as I can remember and white marlin have been snapping. The inshore sea bass and flounder bites were inconsistent, but have heated up in recent weeks. It looks like the effects from recent storms may have stirred things up a bit and moved the cold water off the bottom. We saw another great season of cobia fishing along the coast, and finally, the bay flounder season was a good one, although anglers had to weed through a large number of throwbacks to get their keepers. When they weren't fishing for flounder, bay anglers found plenty of bluefish and small stripers around the Rt. 50 Bridge to make their trip interesting.

Unlike past seasons, the final couple of weeks have been hampered by bad weather. Offshore action was definitely dominated by dolphin last week with huge catches coming in from the Baltimore Canyon before the weather turned bad on Friday and Saturday.

One of the few boats that broke the Inlet on Saturday was the "Fish On" and they were rewarded with a blue marlin release that they estimated at 300 lbs., 4 white marlin releases, 10 mahi and a 68 lb. wahoo. All of the action was in the Baltimore Canyon.

Fortunately for most boats, it picked right back up on Sunday and we saw quite a few boats head offshore. Boats arrived back at the dock with loads of small to medium-size dolphin in addition to some nice size yellowfin tuna and white marlin releases. Anglers on the "Primary Search" had a good overnight trip, returning to Sunset Marina with a mako shark release, 2 big yellowfins, 2 white marlin releases, a boated white marlin, a 45 lb. wahoo, 2 golden tilefish, 2 blueline tilefish and a pair of mahi. The "Marli" also ventured out and anglers caught their limit of dolphin and had 2 white marlin releases Their largest yellowfin weighed 79 lbs. A few other boats had a good day with white marlin hook-ups. "Reel Chaos" had 5 releases in the Baltimore Canyon and the "Griffin" released 6 in the "Poor Man's".

Speaking of the "Challenge Cup", the teams from Ocean City squeaked out a win versus the Cape May (NJ) Tuna and Marlin Club. When I say squeaked, I mean they won by only 1 white marlin, 38 whites versus 37.

A few wahoo were also caught last week by anglers on the "No Quarter", "Reel Chaos", "Blue Eyes" and the "Primary Search".

Like I said earlier, the inshore black sea bass and flounder bites seem to be improving. We didn't see any epic days last week like we did the week before, but headboats reported many anglers catching their limit of knotheads or getting close to it. Like last year, the best bite is moving eastward into 100+ feet of water. The largest sea bass we saw last week were in the 20-inch range and were fooled with squid or clams. It will be interesting to see what this latest storm does to the flounder bite. The Old Grounds continued to look like it was worth the ride, but we also saw catches come from wrecks closer to Ocean City, such as at the Bass Grounds and African Queen.

In the bay, water clarity was not very good, but we did see flatties being caught in the East Channel, the West Channel and down behind Castaway's Campground. Live bait is the ticket right now, but Gulp artificial baits are still producing.

The sheepshead bite has been relatively quiet, but anglers on the charter boat, "On the Run" jumped back on the Heaviest Fish page with a 26 1/2-inch, 13 lb. 3 oz. fish caught on Sunday at the South Jetty with a green crab.

With this being the last issue of the season, I want to take the time to thank some folks for what they do.

First, our advertisers who make it all possible. Since we continue to be a "priceless" publication, we rely on advertisers to pay the bills. Many of these advertisers have been with us over 15 years. Needless to say, a great way to say "thank you" is to shop local because these businesses not only make it possible to bring you the Coastal Fisherman each week, but they are also the backbone to our fishing community. The internet is convenient, but please think twice before you hit the "buy" button. Keep it in the family!

I also want to thank our columnists, Franky Pettolina, Mark Sampson and Steve Katz. Unless you have ever done it, writing a weekly column is not as easy as it looks, especially when you are fitting it in with your regular job. I think our guys do a tremendous job and I appreciate what they do.

I would like to thank our small, but great staff at the Coastal Fisherman. My brother Tom, my wife Mary, my mom Maureen and my son Larry do a great job every week to pull this whole thing together and keep me somewhat sane. Since everyone is family, I probably don't say "thank you" enough, but I really appreciate the job they all do.

Finally, a big "Thank You" goes out to our readers. Not a week goes by where we don't receive nice comments from readers telling us how much they enjoy reading the Coastal Fisherman. To say we appreciate these comments would be an understatement and some weeks, when you are really dragging, these nice comments give you the jolt you need to put out another issue that readers will have fun reading. For this, I return the "thank you" and please don't ever think for one minute that we take your loyalty and appreciation for granted.

The next issue on the schedule is our big Winter Issue that hits the streets right before the New Year. If you have any pictures of catches that you would like to submit, please don't hesitate to do so. You can email the information and the picture (at Actual Size) to [email protected]

Until then, let's hope that white and blue marlin keep snapping, big schools of yellowfin tuna make a return appearance, dolphin keep filling coolers, the inshore sea bass and flounder bite finish strong and we actually have a fall/winter striper bite. That's not asking too much!

Until the next year, I'll see you on the water, hopefully with a big flounder or striper at the end of my line.