Vol 42 | Num 4 | May 24, 2017
Ocean City Fishing Report
Article by Larry Jock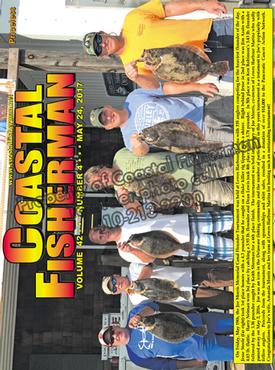 With the opening of the 2017 sea bass season and an offshore bite showing potential, everyone was hoping for an exciting week of action, but Mother Nature had different plans. Windy conditions filled most days during the week and lasted right through the weekend.

The black sea bass season officially opened on the 15th, but it was too windy to venture outside the Ocean City Inlet on that day so anglers jumped at the opportunity to head out the following day and were welcomed with knotheads ready for their offerings.

The San Gil wreck proved productive as the "Jezebel" headed there on Tuesday and returned with 83 sea bass in the box. All of their fish were caught on squid and clams in 108 feet of water. Anglers on the "High Seas" also headed to the San Gil and had 60 sea bass in their cooler before moving to the Baltimore Canyon where they caught 28 blueline tilefish.
Tuesday and Wednesday were really the only days anglers had a chance to go after sea bass. On both days, the charter boat, "Fish Bound" returned to Bahia Marina with boat limits of sea bass weighing up to 3 lbs. Anglers on headboats, "Morning Star" and "Angler" also had a couple of good days with limits around the rail.
The start of the sea bass season always takes a load of pressure off tautog, so we didn't expect to see many catches of blackfish, but Mark Levinrad managed to catch and release a beautiful 11 lb. female that was loaded with eggs. Hat's off to Mark for releasing that fish!

Windy weather just crushed the offshore bite last week, leaving only a couple of days where venturing offshore was even possible. Boats had to head all the way down to the Norfolk Canyon on Wednesday where captains found a 62 to 72-degree water temperature break. It turned into a morning bite with yellowfins weighing up to 35 lbs. and mahi averaging 12 to 20 lbs. The charter boat, "Marli" ended up with 8 gaffer dolphin and 7 yellowfins up to 40 lbs. All were caught in 500 fathoms. "Big Billin" did return with a 46 lb. dolphin from the Norfolk, giving them a tough fish to beat for Heaviest Dolphin honors this season. The charter boat, "Last Call" also steamed 81 miles to the Norfolk Canyon and ended up with a pair of yellowfins weighing 27 and 35 lbs. in addition to 5 mahi.

On Thursday, anglers on the "Marli" took on rougher seas than the day before, and followed the water that was pushing southwest, below the Norfolk where they caught 18 dolphin while trolling ballyhoo in 150 fathoms.
We did see a couple of good tilefish bites last week. On Tuesday, Capt. Ron Callis on the "Bill$ 4 Bills" returned from 770-feet near the Rockpile with 8 golden tilefish, weighing up to 45 lbs. and 13 bluelines. As mentioned earlier, also on Tuesday, anglers on the "High Seas" ventured out to the Baltimore Canyon and boated 28 blue lines.

Surfcasters are struggling this spring season. Striped bass have been a major disappointment but bluefish have been plentiful. On Thursday, Sarah McGovern did land a 45-inch linesider while fishing with finger mullet. Steve McGlannan also hooked a nice one, catching and releasing a 43-incher that he fooled with a chunk of bunker. Bluefish continued to be caught all along the coast, from Assateague all the way up to Cape Henlopen. There was a great bite over the weekend for surf fishermen soaking bunker in the suds off Bethany Beach, DE.

In the Inlet and the bay, anglers are still being kept busy with a solid bluefish bite and a bunch of short stripers. The best action has been around the Rt. 50 Bridge but those drifting the Inlet and fishing around the rocks off Martha's Landing also put some choppers in the cooler and released multiple small stripers. Bluefish will go for practically anything, but it seems that most anglers are sacrificing rubber swim shads this season.

The flounder season has had a tough time ramping up with windy conditions making it tough to get to the spring hotspot known as the Thorofare Flats. ?On Wednesday, Yancey Carapico and Dave Scoole were able to fish the flats and had 1 keeper (17 1/2-inches) in addition to 9 short fish during their afternoon trip. Frank Lanigan managed to catch a 23-incher on Saturday while drifting in the East Channel. As this report was being written on Monday, Mike Johnston called in to report catching his limit of 4 flounder while slow trolling belly strips over the Thorofare flats. Mike has really been tearing up the flatties this season.

Upcoming Tournaments

The first tournament of the year in Ocean City is the Marlin Club Memorial Day Tournament on May 27th and 28th. Anglers can fish 1 of 2 days.

The following week is the 21st Annual Mako Mania Shark Tournament at Bahia Marina on June 2nd, 3rd and 4th.

Until next week, I'll see you at the scales!