Article by Capt. Steve Katz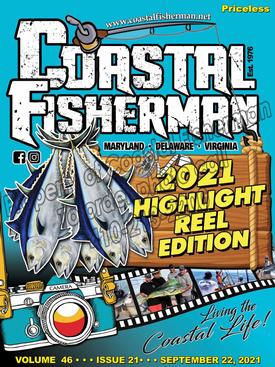 The last few columns discussed much about safety on the water, this week we will get back to the some of the important technology we use throughout the season:
Sonar Sommer

There wasn't one tournament this summer where the use of Sonar wasn't discussed, while some owners and crew indicated that you need sonar to be competitive, there were a few tournament winners that fished without the use of sonar. Some without sonar suggested there should be a separate category for sonar vs non-sonar boats. These discussions are fuel-to-the-fire for the Sonar manufacturers, they would love to see one on every boat!

Kongsberg/Simrad out of Norway introduced a new Omni sonar this summer, the SY50, four years of research and development went into this system which is similar in size and competitive with the Furuno Omni sonar. The Canadian company, MAQ Sonar, who developed the first commercial fishing Omni sonar in 1978 has a recent install on a Viking of its MAQ Sonar 60 KHz unit with positive results. Many boaters who don't have the space or budget for the larger Omni sonars have chosen the less expensive Koden KDS-6000BB, the world first Broadband searchlight sonar with positive results and tournament wins. The Furuno Omni continues to dominate the sportfish marketplace, the constant backorders demonstrate the popularity of these units.

Satellite Communications

In the future, Starlink, Project Kuiper, UK's OneWeb and other new satellite internet providers may offer the ability to communicate with terminals on-board pleasure boats at down to earth prices, until then, conventional satellite communications will remain the primary source for voice and data when offshore. This spring, Globalstar suddenly discontinued its Globalstar Sat-Fi2, a popular affordable voice and internet solution for boaters, leaving some to upgrade to bigger and faster satellite systems or downgrade to simpler text only systems such as the Garmin InReach, which was and is still in short supply.
Additionally, KVH announced the termination of its service for its oldest satellite hardware at the end of 2021, though offering customers a discount of approximately 50% for the purchase of a modern faster replacement system, with less expensive rate plans and the introduction of a new system (V30), with compact hardware powered by 12v/24V- perfect for large center console boats.

Shortages

Supply chain shortages and shipping delays were felt in the marine marketplace, whether for boats, hardware, engines, generators, electronics or even labor – this was a summer of delays, and the industry is still not sure when we will catch up. In August, Garmin notified its dealers to plan for an 18-week lead time for the popular GPS chartplotters. Other brands and equipment will be in short supply this fall based on manufacturer's predictions. If you have a fall or winter project, it would be a good idea to start ordering the hardware today, in the hopes you have everything when needed.

Safety at Sea (and the dock too)

Boating accidents and maritime medical emergencies are bound to happen in the Ocean City area, we become the 2nd largest city in the state of Maryland during the summer months, combined with easy boating access to the back bays and Atlantic Ocean – it's no surprise accidents happen in our waterways.
This summer was unusual, with a tragic deadly accident offshore, charter boat fire/sinking in the inlet, sinking offshore and an early morning cardiac arrest at the dock just to name a few. Many of us travel and fish the same waterways and put ourselves in the same situations regularly without much thought to our safety or the probability of an incident occurring. This year's events can be a teachable moment that can remind us to prepare in advance for emergency's while on the water. Captain John McDevitt, a Mid-Atlantic marine accident investigator, who heads the National Fire Protection Association's watercraft standards and former assistant fire chief says regarding boat fires these factors all need to be covered: Prevention, Detection Egress and Suppression. These key points can also be applied to most health and safety situations on the water. Take the time in the off-season to review Prevention, Detection Egress and Suppression on your boat.

As the Chairperson of the Board of Directors of the National Marine Electronics Association (NMEA), I along with all members of the NMEA are looking forward to our annual conference and expo this year after the postponements of last year's event. This event is the highlight of the marine electronics industry, with a trade show, training, educational seminars, new product introductions and the ever-popular product awards packed into a short week. Stay tuned to learn what products win awards this year. On the heels of the NMEA event, another trade only event, the International Boatbuilders' Exhibition & Conference (IBEX) is returning after last year's cancelation and is assured to make up for lost time. This fall and winter public boat shows seem to be on schedule as we begin to return the new normal. Have a great off-season and thank you for reading the Coastal Fisherman.

Stay safe!