Article by Christine Budd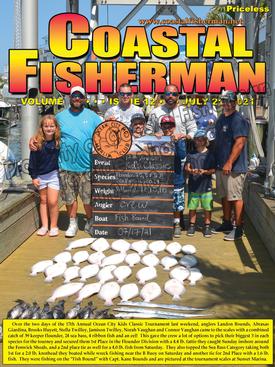 Garlic Parmesan Flounder

Ingredients:
1/4 cup extra-virgin olive oil
4 fillets flounder
Kosher salt
Freshly ground black pepper
1/2 cup freshly grated parmesan
1/4 cup bread crumbs
4 cloves garlic, minced
Juice and zest of 1 lemon

Directions:
Preheat oven to 425°. Drizzle 2 tablespoons oil on a large baking sheet. Season flounder with salt and pepper.
On a large plate, combine Parmesan, bread crumbs, garlic, and lemon zest. Season with salt and pepper. Dredge fish in bread crumb mixture, pressing to coat.
Place fish on prepared baking sheet and drizzle with remaining 2 tablespoons oil and lemon juice. Bake until golden and fish flakes easily with a fork, 20 minutes.

Garlicky Lemon Mahi-Mahi

Ingredients:
3 tbsp. butter, divided
2 tbsp. extra-virgin olive oil, divided
4 (4-oz.) mahi fillets
Kosher salt
Freshly ground black pepper
1 lb. asparagus
3 cloves garlic, minced
1/4 tsp. crushed red pepper flakes
1 lemon, sliced
Zest and juice of 1 lemon
1 tbsp. freshly chopped parsley, plus more for garnish

Directions:
In a large skillet over medium heat, melt 1 tablespoon each of butter and olive oil. Add mahi-mahi and season with salt and pepper. Cook until golden, 4 to 5 minutes per side. Transfer to a plate.
To skillet, add remaining 1 tablespoon oil. Add asparagus and cook until tender, 2 to 4 minutes. Season with salt and pepper and transfer to a plate.
To skillet, add remaining 2 tablespoons butter. Once melted, add garlic and red pepper flakes and cook until fragrant, 1 minute, then stir in lemon, zest, juice, and parsley. Remove from heat, then return mahi-mahi and asparagus to skillet and spoon over sauce.
Garnish with more parsley before serving.

Pan Sautéed Rockfish with Capers

Ingredients:
24 ozs. rockfish fillets
1/2 tsp. kosher salt
1/4 tsp. black pepper
1/4 tsp. olive oil
1/3 cup dry vermouth (or white wine)
2 tsp. grated lemon rind
2 Tbsp. fresh lemon juice
1 Tbsp. capers
1/4 tsp. dried herbs (like herbes de Provence)
1 tablespoon butter, chilled and cut into pieces
2 Tbsp. fresh flat leaf parsley, chopped

Directions:
Heat a non-stick skillet over medium high heat.
Add the oil and swirl to coat the pan.
Season the fish on both sides with the salt and pepper.
Add the fish to the pan, and cook about 2 -3 minutes on each side, or until the fish flakes easily.
Remove the fish to a warm plate.
Add vermouth, lemon rind, lemon juice, capers and herbs to the pan.
Cook for 30 seconds.
Add the butter to the pan, whisking to incorporate into the sauce.
Pour the sauce over the fish, top with the parsley.

Super Summer Grilled Bluefish

Ingredients:
4 pounds bluefish fillets
1 cup orange juice
¼ cup fresh lime juice
¼ cup fresh lemon juice
¼ cup olive oil
1 tablespoon dry white wine
kosher salt and ground black pepper to taste
¼ cup citrus flavored seafood rub

Directions:
Place the fish fillets into a large bowl. Pour in the orange juice, lime juice, lemon juice, olive oil and white wine. Season with salt, pepper and seafood rub. Stir to blend and coat fish. Leave the squeezed lemon and lime halves in the bowl too. Marinate for at least 30 minutes.
Preheat a grill for high heat. When the grill is hot, oil the grate.
Place fish fillets on the grill, and discard the marinade. Cook for 4 minutes on each side, or until fish flakes with a fork. Transfer to a serving platter, and remove the dark blue part of the fish before serving.

Cajun Blackened Redfish

Ingredients:
¼ cup butter, melted
1 teaspoon cayenne pepper
1 teaspoon freshly ground black pepper
1 teaspoon lemon pepper
1 teaspoon garlic powder
1 teaspoon salt
1?¼ cups Italian-style salad dressing
4 (4 ounce) fillets red drum

Directions:
Preheat oven to 350 degrees F (175 degrees C).
In a medium saucepan, melt the butter on low heat; cool to room temperature. Meanwhile, in a medium bowl, combine the cayenne pepper, black pepper, lemon pepper, garlic powder and salt. Set aside.
Dip the fillets into the melted butter, then coat with the seasoning mixture.
In a large skillet over high heat, sear fish on each side for 2 minutes or until slightly charred.
Place in a 11x7 inch baking dish and pour the Italian dressing onto each filet. Cover baking dish and bake in a preheated oven for 30 minutes or until flaky and tender.

King Mackerel Islamorada Style

Ingredients:
1 1/2 cups Italian bread crumbs
1/4 cup mayonnaise
1 pound mackerel (about 3 fillets), pin bones removed
1/4 cup plus 2 tablespoons vegetable oil
2 garlic cloves, smashed and diced
1 shallot, thinly sliced
1/4 teaspoon dried Italian herb mix
1/4 cup sliced mushrooms
1 whole scallion, thinly sliced
2 tablespoons white wine
1 lime, halved
Kosher salt and freshly ground black pepper
1 tablespoon butter
2 slices provolone

Directions:
Preheat the broiler.
Place the breadcrumbs and mayonnaise in separate shallow dishes. Coat the fish fillets first in the mayonnaise and then in the breadcrumbs, shaking off any excess. Heat 2 tablespoons of the oil in a large skillet over medium-high heat until hot. Carefully place the fillets skin-side up in the pan and cook until golden brown, about 3 minutes per side, and then transfer to a broiler-safe plate.
Carefully drain the oil and wipe out the skillet with a paper towel. Replace the pan and heat the remaining oil over medium-high heat until hot. Cook the garlic and shallots, stirring frequently, 1 to 2 minutes. Stir in the dried herbs, mushrooms and scallions and cook 1 minute. Pour in the wine and half of the lime juice, season with salt and pepper and cook, stirring frequently, about 1 minute more. Melt in the butter until incorporated, and then remove the skillet from the heat.
Pour the mushroom mixture over the fish and top with the cheese. Place under the broiler until the cheese is melted, browned and bubbly, 3 to 5 minutes. Transfer to a serving plate and serve immediately, squeezing the remaining lime juice over the fish, if desired.