Vol 37 | Num 7 | Jun 13, 2012
Article by Larry Jock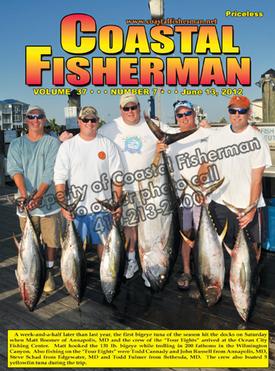 New Cedar Creek Boat Ramp opens near Slaughter Beach

The new Cedar Creek Boat Ramp facility near Slaughter Beach opened for public use at on Friday, June 8th.

The facility features eight 16-foot wide concrete launch lanes, five full-floatation boarding docks, one full-floatation courtesy dock and a large parking area. The old ramp closed for construction of the new facility in late November 2011.

This project is part of DNREC's Bayshore Initiative, a landscape approach to restore and protect fish and wildlife habitat, increase volunteer participation in habitat stewardship projects, enhance low-impact outdoor recreation and ecotourism opportunities, and promote associated environmentally compatible economic development.

Mid-Atlantic $500,000 set for August 20th to 24th in NJ & MD

With the 2012 Mid-Atlantic $500,000 scheduled for August 20th to 24th, right in the heart of the white marlin season, anglers will again be able to fish out of either the Canyon Club Resort Marina in Cape May, NJ or Sunset Marina in Ocean City, MD.

Since 2006, the Mid-Atlantic $500,000 has seen 2,781 marlin hooked by anglers fishing on 867 boats. The release rate over that time period was nearly 95%, while total prize money eclipsed $11 million dollars.

In 2012, anglers are expected to compete for over $1.5 million dollars while fishing within 125 miles of the Cape May Sea Buoy. Categories will include white marlin, blue marlin, tuna, dolphin and wahoo.

Last year, 117 boats entered the tournament with 51 sailing out of Ocean City, MD. Boats fished Monday through Thursday, with Friday's fishing day cancelled due to the effects of Hurricane Irene. The "Lady Luck V" out of Ocean City came in first place in the White Marlin Division for the second year in a row with an 82 pounder worth over $615,000 in award money. Another Ocean City boat, the "Espadon", took 2nd place honors with a 76 lb. white marlin that was worth over $104,000.

Several promotions will be offered by tournament sponsors. Seakeeper is offering a $7,000 tournament entry package that includes the basic entry fee and $1,000 in fuel for anyone purchasing a Seakeeper Gyro for their vessel prior to the event. Baitmasters is offering a promotion where anglers who purchase one case of Baitmasters bait from the South Jersey Marina Ships Store during the 2012 season can complete an entry form to win four free cases of the same bait for the 2013 season. Garmin is promoting their Garmin Grand Giveaway, which awards $1,000 to top anglers who use Garmin sonar during the tournament.

For further details log on to www.ma500.com.